**** Warning Adult contents ahead *****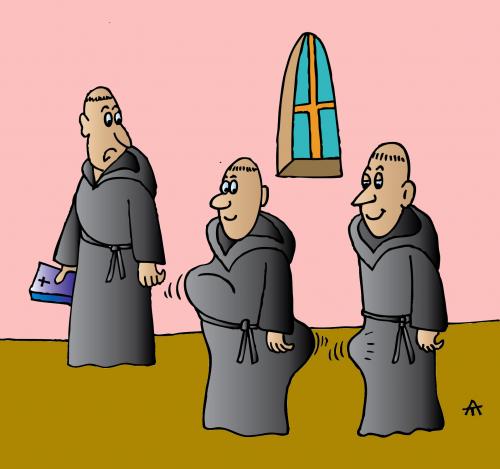 First I will like to make you clear something that this post is not written to harm or insult any religious sentiments.. so read it on a lighter note....
Celibacy
: Means be a monk...and abstain from pleasure especially sexual...
Homosexuality
: Needs no explanation... :D
The other day, me and my sweetheart were discussing something romantic and all of a sudden the conversation headed towards celibacy.. or may be because I was blackmailing her. that I will go Sanyasi and will leave all Moh and Maya.. and once again.. I will like to mention.. Maya is not a girl nor my fellow blogger
Uncommon sense.
.. :P ..the former I won't hit coz I am committed B-) .. but later I can't...due to the obvious truth that I am absolutely straight .. though his choices are not very clear... :P
Yeah!! Coming back to the point...
I was discussing and suddenly she asked me a sweet question that if you be a monk... you know what you will miss :D...
and then I realized the greatest revelation
that.....
Celibacy is the purified terminology to explain Homosexuality...
Like.... Oye bidu!!! Mujhe toh Mard ki Baanhe majboot lagti hai so main ab se kisi ladki k pichhe nhi bhangoonga ( Buddy!! I like strong arms of guys so won't run after girls from now on)
Who the hell wants to leave a sexy girl in bed to join a monastery .. of course you have to be a gay to do that coz Monasteries are all male and some are all female and they don't allow opposite sex to visit... so that the one who is being rammed from behind don't change his choices anymore...
Monkey and AIDS
In old times when homosexuality was not common.. people used to join monk hood to join all male ashrams or monasteries..so the term..Gay came for homosexuality.. as they were unhappy with chicks.. so when they got cocks they were happy and thus became gay.. lol.. some even didn't understand that they like cocks went to jungle where in heights of sexual frustration they started banging monkeys.. and they gifted the humankind..AIDS and Condoms..
A girl naked on your bed is like thousand goosebumps taking place together.. with the excited manhood all up to give a standing ovation to the beauty lying and waiting to be loved...who the hell hates this feeling ???
Yeah!! A gay.. who wants scantily clad males only :D
Thinking about leaving her romantic mushiness and
FTV
... and
Sports Illustrated
gives spine wrecking chills :D..( The importance of each items are not in same scale :P... )
I just remembered a joke thinking about monk and celibacy...
The election for the head monk was going on..so three candidates were given sexual excitement test... so a bell was tied to manhood of these three candidates.. and they were all given playboy magazines in a private room.. First one went inside ..opened the issue of the Playboy and the bell started ringing..second one took a little more time but his bell too rang "Tin Tin" ..But the third one was unaffected.. he spent an hour inside in pin drop silence...he came explained the content of the book and he was elected as chief monk.. so all of the gathered monks bent over to bow in front of him...and suddenly the bell started ringing.. ...
I am sure I won't be a monk ever...
As only losers escape the duties or when is gay... noting the exception of not being the former two but a China Spy...You know our own Karmapa.. with Rs.100 millions donation in foreign currency :D.. and that too can be an excellent choice...
And I am sure that Monks are gay..yeah!!! Happy and Gay both :D
PS: The post is once again for pure humor and I am not against homosexuality after all it is definitely your ass in line..so it ain't my headache...