Last night I switched on the news channel to find a disgusting news that one
minor girl was molested
by 20 people in Guwahati that too was not enough they filmed the total molestation and uploaded on YouTube..
Those who are not already aware of the situation.. it happened on Tuesday night when the girl was returning from a nightclub attending a birthday party...The Assam DGP, Jayanta N Chaudhary, said, "The girl had gone to celebrate a friend's birthday... There (at the bar) they had a fight and the management asked them to leave as they were creating a ruckus over there... they came out and some hooligans saw her and tried to take advantage of her... She was assaulted but is not hospitalised... Whatever is there in the law books, we will do accordingly thanks to the coverage of media... They have been a great help."
She was groped by few local goons who started treating the girl as a prostitute...that turned into her being beaten and disrobed... Soon several person of the crowd joined in to make an example of the girl or in short they didn't want to waste the opportunity to
molest that young girl
who was just a student of class XI... Soon the number rose to 20 or more..and the moral policing became an ordeal for the girl where every guy in the crowd started molesting her like it was their right ...Few of the people tried to abduct that girl to complete their rape fantasy...The police came in after half an hour later to rescue the girl from the place which is on Rajpath and quite a busy locale. A person some claimed to be a reported filmed the total scene on his camera which was quite a Hi-def for an ordinary mobile camera as the lighting was proper..and the video was uploaded on Youtube the next day...The video was flashed on local news channel which prompted the action that was supposed to happen on that night itself when the Police came in to rescue the girl ... The CM declared that they will gear on the make a women squad to tackle these instances which is now a common thing in North eastern states...
Few years back, a
girl was paraded naked
when she came out of nightclub in Guwahati in a similar manner where media was busy making TRPs instead of protecting the girl's modesty..
They flashed it like a sensational news with admiration of local moral policing...If the media and the Police made an example of those morons responsible for outraging the girl's modesty..this recent incident wouldn't have occurred... I just feel so sorry for these NE girls and lame NE governments for such instances...
It is really shameful for us ..as being a citizen of a country of so called high modesty .. we molest a girl and watch its video on youtube like it is just an amusement...We treat every girl as prostitute who go to night clubs or attend a late night party.... We need to understand the fact that these girls and women too have freedom like we men to go to clubs and socialize.. coz today she is just a random girl.. but tommorrow if unchecked it will be your mother.. your sister or perhaps you on receiving end of this molesting crowd.. It is high time govt. start to establish a strong line of protection for women.. if it is not going to happen I am sure India will surely be another country with downright degraded moral values with no respect for women like what happens in Soviet liberated countries....
I am sharing this snippets from the video for identification of these morons who need to be put behind the bar...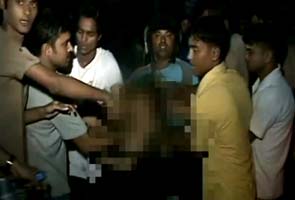 If you can identify anyone of the crowd.. Drop a message to your local police station.. it is now our responsibility to nab these culprits to curb this rising menace...Already 4 have been caught..now it is turn of of the other 16 in the crowd
....
PS
: Do not bother searching on YouTube.. it has already been removed for violation of term...The video is shot by a reporter who tried to help and then he thought to collect it as evidence (yeah!!! getting his TRP high...) and I don't know how it got uploaded to YouTube...but Kya Idea hai Sir jee!!!..You can view the culprits better here...
I am not going to upload the original video of the molestation of that girl...but those who are interested can go peep in their mother's or sister's room to view what women hide under their clothes...