Two nights back ... I was surfing my TV at 2 am and halted on a movie of Kiefer Sutherland ...my fav actor of '24' and you might have heard him and then a glimpse in the Spielberg movie 'Phone Booth'....
Now you must be thinking what I am blabbering.. really this blog break has affected my writing and it is very hard to initiate as so many words are moving in my head...
It was a movie called Flashback.. a story of a FBI agent transporting a national criminal Huey Walker (Dennis Hopper) to country jail.. the criminal was convicted of riots against nation during 1960s of anti-vietnam protests and was absconding for 20 years before he let himself caught for the book publicity...the story revolved around the young FBI agent who was born and brought up under Walker's legend in 1960s which he was so trying to deny but ultimately he came back to his roots.....the movie was all about how life is so wonderful which we are wasting on being ridiculously punctual and materialistic...and I slept at 4 AM longing for more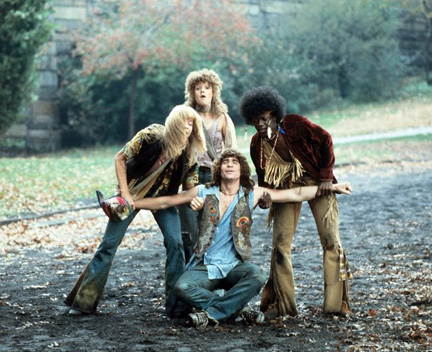 1960s was the era of revolution in America and Europe... it was the time when the millions of babies who were born after world war returned soldiers who were fighting in war all around the world... got young ..18 to 22 and this was the time when America was boiling with Zillions of young blood and America invaded Vietnam.. there was misery , joblessness and war all around.. and that was the time some of the greatest legends of rock n roll unified the souls with music... it is considered the golden age of Rock and some excellent music was born with some wonderful artist such as Beatles,Rolling Stone, Bob Dylan , Rod Stewart with Folk Rock. In 1966 the UK underground scene based in North London, supported new acts including Pink Floyd, Traffic and Soft Machine with Jimmy Hendrix....
The world was so beautiful then..even the slightest glimpse of it makes me wanna go all back to 1960s back to the rock cult..to smoke drink and float in music...
The world now is so based on time and in contrast to that we don't have time for ourselves...lol...Irony...
PS: The above song " Summer Wine "was originally sung by Frank Sinatra's daughter but I loved it's new remake...I am betting that u will surely fall in love with this song and the era I am talking about...

oooooooooooooo oh !! Summer wine !!!