*** Author is not showing disrespect to victims of Mumbai..and if they feel so at any point..they have his apologies***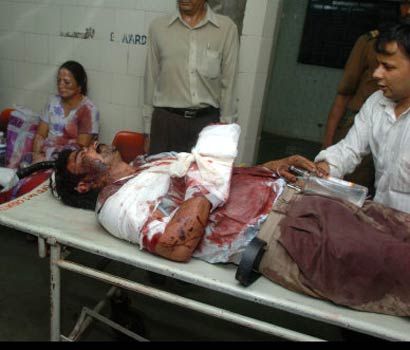 As we all know about the recent terror attack on soil of India...and it was interesting to note that this time India took a real hard stance against terrorism,...thanks to the Lashkar team for the beautiful attack pattern that showed how India is incapable of fighting the current terrorism format and it's weakness towards the hostage crisis scenarios.
Yeah! I do salute the martyrs who laid down their life to protect more civilian dead than already the POLICE figure of some 190 dead...which is in actual a much larger than what is being shown...and u don't have to be a RAW analyst to get that info...it always had been like this only...
But don't you think this was an utter failure...
NSG people came late
...because of Aviation crisis...and lack of equipments....
Half of the ATS top brass was busy investigating Malegao scandal
while
more than thousand are dead in separate bombing cases
in recent months...but they are busy scratching their nose over some political connection in that blast....so what will happen if they find out anything...In India no politician was ever tried or convicted of riots and all.....and even if they are convicted ...they compare themselves with likes of Mahatma Gandhi for serving jail times..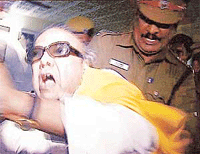 And what we got ..we got stringent laws ..
reenactment of likes of POTA
... in another form...where they are being given
rights to detain a person for more than a year without putting the charge-sheet on grounds of suspicion alone
...now who gives them the right to do so...I am not in favour of this..coz this is another
form of dictatorship
..they need to take permission of judiciary to take action otherwise it will be another tyranny and another form of terrorism...u must be remembering wat happened in Tamil nadu to
Karunanidhi
..how he was dragged into jail and it was all
POTA
used for political connection...and also it would be
weapon against minorities
who are always dragged into suspicion for practicing the religion of which the most terrorists belong..though I am in favor of this law as it enables action against terrorists but I've seen such uses of these type of Laws by military in dispute regions valley and north east..and believe me people are not happy...so we need to upscale our judiciary and have a control over this
Nationalized agency
that govt. is bringing in picture following US recommendation and may be watching a few movies....
But let's wait...for the full picture to come and you will see then how this is used...they may keep me too in custody for a year coz I get wrong numbers from gulf and openly voiced out my opposition to them...and believe me ..if this post is deleted and I m out for long..I am in there custody...that's wat this law means.....
Now
REFORM INDIA
... a platform which sprang out after Mumbai attacks is bringing the voice of all of India against it's current situation and I seriously encourage this mission of theirs...but ..Look at the picture that I took out from that site about the recent visitors at 10:30 IST...look the dots (visitors) from US side and compare it with visitors from India...surprisingly wat I found out is we Indians are not actually much contributing the platform but most of the people are NRIs...
Yeah NRIs are do entitled to show concern about India....but fact is shouting from another country about conditions in India is quite easy than actually living it...and if they seriously love their country so much why they are giving their own efforts to develop another country...this is not a war against NRIs....but this ...one need to understand... u can't really count on the voices of people who don't vote for Indian government when u are talking about the reforms....so if their experience with FBI is good then they shud not think that same thing can happen in India too ...we don't need the pity..we need support and they can't give that via web forums they need to come down and support..they need to
practice their options to vote
..
And about
citizens of Mumbai
...they have shown the best courage to march out rallies ...
No disrespect to the victims of the tragedy
...but don't you think so that these people who are now talking about reforms kept mum when their brothers from other states were being bitten and killed because of their slogan
Amchi Mumbai...???
When they were killing poeples of their own country in their Mumbai....wen students were being beaten up as they dared to give examination there thinking that this is their country too ...
Wat the Mumbaikers did.??
..They
silently supported
them....Where were the rallies then..huh???? It is so true that
wen one's ass is on fire then only one search for the fire extinguisher
...otherwise even if whole nation is burnt down in front of one's eye...one
won't shout coz Amchi place is safe
..and this is
not applicable to Mumbai only...it is applicable to all of you
who have this slogan on mind
.." The show must go on"
Get over it buddy....u need to
stop the show
..coz
ur show sucks
and it is
time for a new show
...if u want to
reform India
...don't go for website propaganda or rallies ..use ur brains to elect good people and
go and motivate the people in slums and villages towards nation interest
and much above
get over this Regionalism.
..
If u think u can shout on blogs and influence the other minds ..u are a fool...coz a
person who can blog.. is socially enough aware
to need ur influence...so go and spread it on the streets...at least I tried so...and I need u to try it too...coz sitting in an AC room with a laptop and WiFi...u are actually ignorant about the fact that
it is not you who elects the govt.
...
it is the poverty of more than half of the population of India
which decides on who will rule them for 5 years for just a few pieces of bread ..
not even enough for a month supply..
Get it in your head.....
Aneways....u keep on shouting...at least u might have the self satisfaction that u did took part in this Reform thingy..
Keep amusing urself.
....and wait for the next blast...coz u will again have the opportunity to say
" The show must go on"
and believe me or not...
it is we who are giving the terrorist their much needed fame
and promoting the terrorism....coz wen we shout in open against country's policies they see how scared we are..